Curtains, cushions and textile decorations are the details that exalt the classic style
Posted on
08/02/2018
by
5881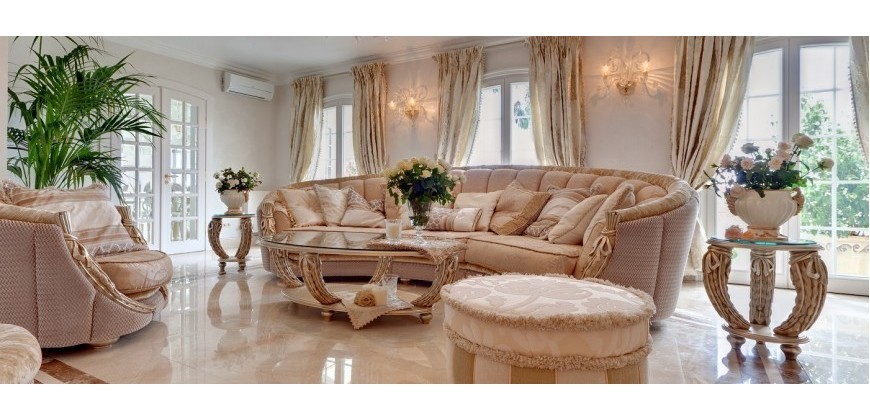 The classic style is an ageless evergreen that has returned to fashion today, with a breath of fresh air.
Craftsmen, designers, experts and companies have returned to the old forms, works and materials, adapting them to the modern times without giving away its beauty.
It is a beauty that is more and more focused on the details.
It is the details that make the distinction, in all styles.
Curtains, cushions and textile decorations are in particular the protagonists of interiors furnished in a classic style.
Deco Belle is well aware of this and offers custom-made classic curtains with valances and trimmings. These essential components of a complete furnishing of a living room, or bedroom, creating an atmosphere that we love the most.
Soft draperies, rich folds, delicate transparencies are enriched by motifs embroidered with relief and printed.
Deco Belle presents a wide selection of decorative elements to which are added a wide variety of fabrics: silks, velvets, jacquards, wool, cotton and linens
The classic curtains of Deco Belle are an essential accessory to dress the windows and openings of the house with a refined touch.
A full-length curtain, for example, gives personality to family rooms.
The fabrics and decorations of the curtains can be coordinated with those of armchairs, cushions and couches. In similar colors, they will make the room more harmonious, in different colors on the other hand, will make a room with pomp and impact on the viewer.
The curtains of Deco Belle interpret perfectly the classic style, thanks to the uniqueness of the products; handmade with great passion and experience.
Furnishing accessories of excellent quality, offerred at reasonable prices, together with a wide selection of curtian embraces, trimmings and fringes.
Precious details are available in different colors, and decorated with feathers and crstals, for a beautiful, charming chic atmosphere.
Wooden curtain rods complete our offer. They ara available in different colors ( cream, gold, silver and black ) and sizes ( 35, 50 and 63 mm ), meeting all of your practical and aesthetic needs.
Tablecloths with matching napkins, placemats for coffe tables and even centerpieces and table runners: Deco Belle offers a wide assortment of fabrics, weavings and decorative elements for any table, perfect for an important dinner or a relaxing afternoon tea with friends.
And for greater comfort, why not choose the plush and luxurious cushions of Deco Belle?
The armchairs and sofa will become much more welcoming, suprising you and your guests at the comfort.
All Deco Belle products can be customzied for your dimensions, colors and designs, making each home a unique, warm space that fits you. The wide range of Deco Belle fabrics is also designed to furnish boutiques, luxury hotels, restaurants and yachts.
The craftsmanship, taste and the high quality of Deco Belle will help you with all areas of good living.
Leave a Comment
Leave a Reply
Please
login
to post a comment.